If you are looking for best heatmap tools for SEO. Website heatmap is a data analysis software. It allows you to track visitors' behavior easily, visualize how users interact with your website. And optimize it for better experience patterns on your website, such as clicking on links and buttons, hovering, or scrolling.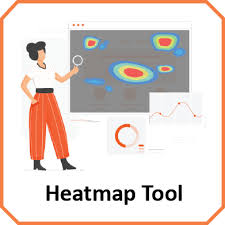 Following is a handpicked list of Top Heat Map Generators, with its popular features and website links. The list contains both open source (free) and commercial (paid) heatmap software.
What is Heatmap?
Heatmap tools and plugins can help you visualize where users click, how far they scroll, and how they … A Heatmap allows you to visualize how visitors use your website. Heatmap tools for SEO provide an overlay on top of your pages showing areas with more activity as hotter than the areas with low user activity.
Heatmap tools offer visual analytics about which areas your users click, look, and scroll. This information helps you understand usability issues with your website and optimize it for better conversions and user experience.
A heat map is data analysis software that uses color the way a bar graph uses height and width: as a data visualization tool. If you're looking at a web page and you want to know which areas get the most attention, a heat map shows you in a visual way that's easy to assimilate and make decisions from. These tools are different than other analytics tools like Google Analytics. Traditional analytics tools provide you information like how users came to your site, what pages they view, and how they move from one page to another.
Heatmaps analytics tools tell you how users use and interact with your site design.
Having said that, Here are the best heatmap tools for SEO and plugins for your WordPress site.
Why Use Heatmaps?
All websites want the same thing: happy users. Happy users buy more, subscribe more, or consume more content.

The issue is finding out what makes your users happy.

If you are a UX designer, a Marketing Professional, a Digital Analyst, or a Product Owner, this is even truer. You rarely actually meet your customers. And even if you do, they might not know what they want from a website or might not know how to express it.

However, you still need to understand their customer journey like you were sitting right next to them when they are visiting your website.

And a heatmap will let you do exactly that.

Heatmaps measure user interactions and convert them into insights. They allow you to see through all the data and easily spot the underlying trends – without having to crunch numbers or compare metrics.
How do heatmaps work?
In short, the level of interaction or engagement changes the overlaid colors. The more activity, the more vivid the colors become – and vice versa, the less activity, the cooler the color gets.
For website heat maps, interactions are clicking, scrolling, movement, attention, and geographical location. The tracking of these data points is all handled by Mouseflow.
Best Heatmap Tools for SEO
1) Mouseflow:-
Mouseflow tracks click, mouse movement forms, scrolls, and more. It shows an anonymized recording of the activity from each visitor on your site.
Features:
Mouseflow of this tool helps you analyze key journeys and checkout or sign-up processes.
It measures form errors, blank submissions, and more.
It allows you to create custom interactive surveys to target a specific audience in a few seconds.
You can integrate this tool with HTML, WordPress, Drupal, Joomla, Magento, Shopify, and more.
2) Lucky Orange:-
Lucky Orange is a heat map software that allows you to see how many people are on your website currently. You can compare historical statistics and see what keywords, languages, locations, mobile users, etc. are driving traffic on your website.
Features:
Lucky Orange is one of the best heatmap software which creates a recording of visitors to your website.Lucky orange chat can be easily integrated with your website.It allows you to search which fields on website forms are causing the most friction.Polls can have multiple queries and can be triggered at just the right time.
3. NotifyVisitors:-
Notify visitor's heatmap is a tool that provides a graphical representation of the user's activity on your website. Heatmap software gives immediate visual information of every movement of mouse activity.
Features:
It offers clicks heatmap reports.
It is one of the best heatmap software which provides real-time analytics.
You can receive a graph previewed on the real-time web pages.
It shows how much average is scrolling your page.
NotifyVisitors facility of this tool shows live online visitor interactions.
Easy to find where visitors are getting stuck on your website.
You can understand and improve a visitor's behavior.
4. Matomo:-
Matomo is one web analytics platform that provides accurate data reporting of your website. It is one of the best heatmap tools using which you can evaluate the user experience, conversion, optimization features.
Features:
This heat map software provides Sessions Recordings, Funnels, A/B Testing, Goals, and more.
You can evaluate the action of individual users.
You can combine reporting from more than one website.
It helps you to embed third-party tracking codes into your website without accessing the backend of your website.
5. Fullstory:-
FullStory is a digital intelligence platform that helps you to understand and improve your digital experiences. By leveraging FullStory's analytics, you can reduce website user struggle.
Features:
It enables you to export data to CSV or JSON format.
You can discover heatmaps using session replay.
Support various devices like HD desktop, tablet, and mobile.
This heat map application enables you to see webpage load time and the number of users who visited your website.
You can manage multiple accounts from a single dashboard.
You can segment information by screen size.
Conclusion:
A heat map is the backbone of any CRO (conversion rate optimization) strategy. It's also a highly underrated tool for how powerful it is. … Using a simple heat map lets you see if visitors are clicking on your conversion elements, and if not, what they're clicking on instead.
As can be seen from the above tools and examples of heatmap dashboards, a heatmap is incomplete without a dashboard.